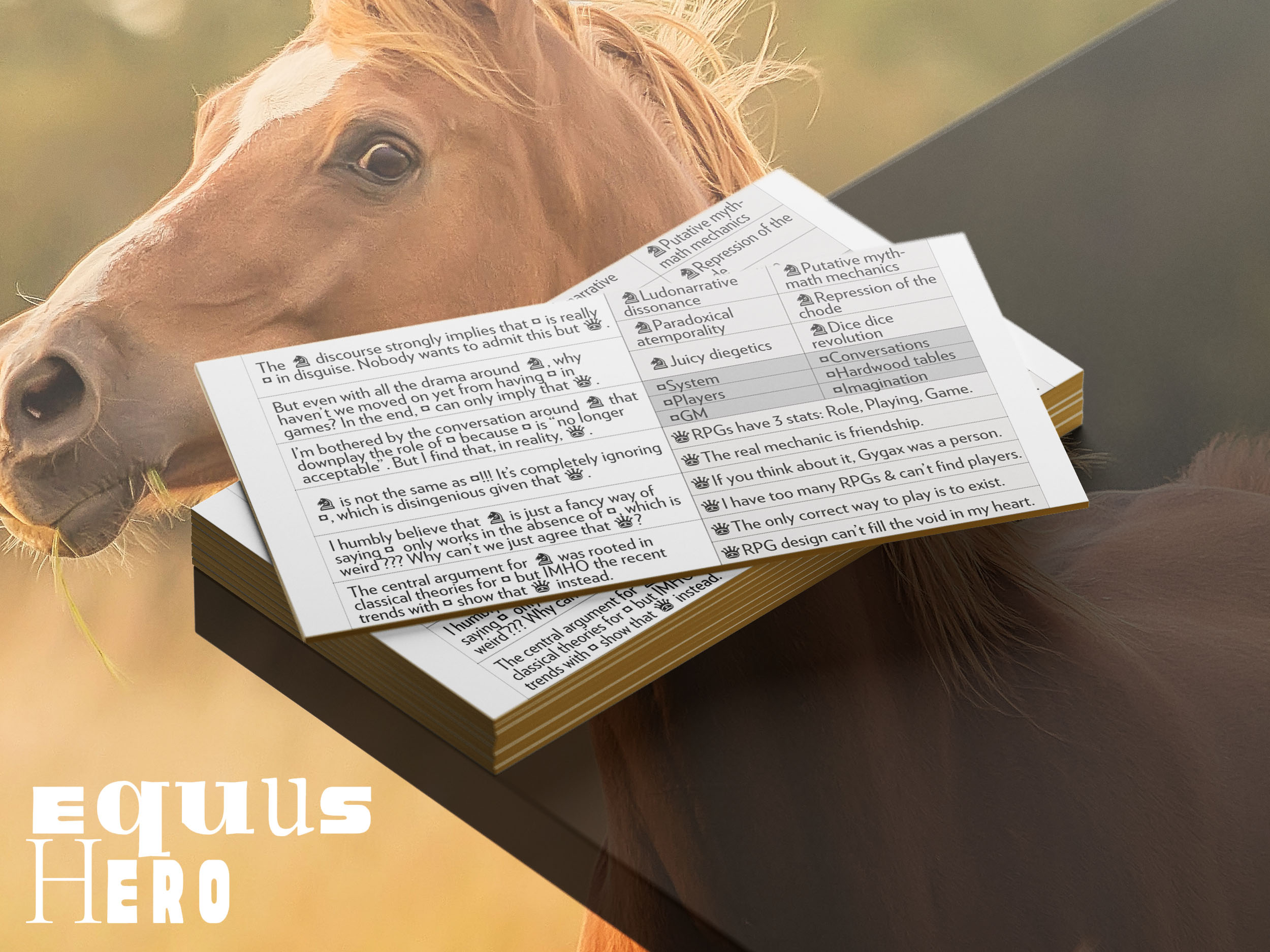 Equus Hero
A downloadable business card RPG
The putative myth-math mechanics discourse strongly implies that players is really hardwood tables in disguise. Nobody wants to admit this but RPG design can't fill the void in my heart.
You, too, can speak meaningful and totally serious RPG design discourse - or disk horse - using this pocket-sized card. Rope in game designer friends looking for a much-needed break from their 4th system overhaul, and make a game out of it using Equus Hero's very brief rules.
This business card RPG features:
Rules, but who needs them
Random tables to make over six thousand witty statements you can post on Twitter
Anything else?

There's an online version you can bookmark along with the other blog posts you keep promising to read. https://momatoes.com/equus-hero

This is a "hack" in the absurdly loosest term of my other business card RPG, Exquisite Hero.
A message from momatoes
This game is pay-what-you-want and can be downloaded for as low as $0 :) Though if you did enjoy it, please consider a tip! Or any of the following ways to support and brighten an indie creator's day.
─────
Other tiny ways to support:
Download
Click download now to get access to the following files:
Comments
Log in with itch.io to leave a comment.
It's like hope, but it died
This is a must-have to engage in twitter discourse talk and I'll never join one unprepared again.
Excellent. In the game of dischorse, the only loser is the person who didn't come with prepared arguments of varying hilarity

disc horse, sorry for my typo, then again, what are typos if not language persisting? (was that ok?)
I humbly believe that this meta-game revolving around satiric-memetic conventions is actually a great system to entertain my and my peers' organic neural machines, which is good because being serious all the time is bad for your health

so clever and fun! I love it